Online panel-discussion (ENG)
#Moin Montreal, #Bonjour Hamburg!
A great opportunity to network with the two AI ecosystems of Montreal and Hamburg and promote exchange of cross border AI use cases.
Join us and our friends from #Québec at this great event. Hapag-Lloyd AG Port of Montreal / Port de Montréal /Artificial Intelligence Center Hamburg (ARIC) e.V. / Ivado Labs / Digital Hub Logistics /Scale AI & many more will have an online panel discussion on Wednesday, December 2, 2020, 10:30 am – 12:00 pm EST / 4:30 pm – 6:00 pm CET.
The program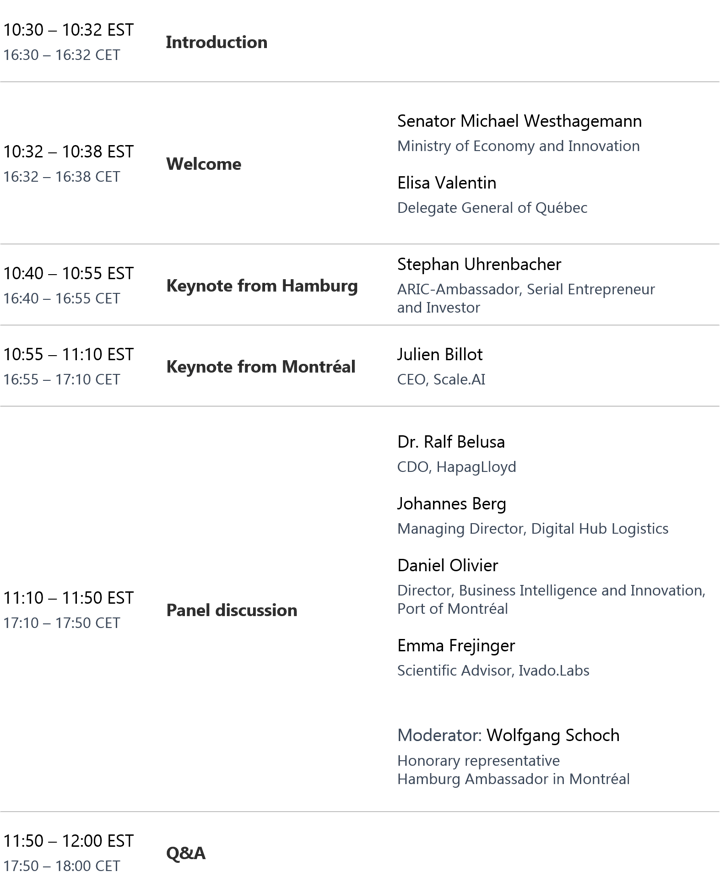 Global supply chains are essential to worldwide commerce. The pandemic has shown even more the crucial importance of an effective network and emphasizes how important a functioning supply chain is for the sourcing, processing and delivery of goods, including Covid-19 relevant goods, to the customer.
Will artificial intelligence that is already in the forefront in many industries for years, be the technology that becomes central to urgent problems and helps to bring up solutions for the delivery of relevant products?
Companies along the supply chain and the logistic sector are facing important challenges. How has the role of logistics evolved during these unprecedented times? If the pandemic accelerates trends in AI, what impact has it on logistics? The keynotes and panel discussion will present use cases from both sides of the ocean. By means of examples of existing projects and concrete mention of the use of AI solutions in the appropriate context, the participants will learn about where the development is leading to. Problems and successes will be addressed. The experts will show how AI solutions can leverage the ecosystems.
Hamburg and Montréal are important partners in many aspects. They can both count on leading start-ups and companies as well as institutions in AI and smart logistics. This event is also meant to foster the collaboration and show the expertise on both sides of the ocean.
A bit more about the other organisations of the speakers:
You can register for the event here: https://www.eventbrite.de/e/hamburg-montreal-ai-driven-supply-chains-use-cases-registration-128844191445